NAPHL alum Demko wins NHL debut
April 3, 2018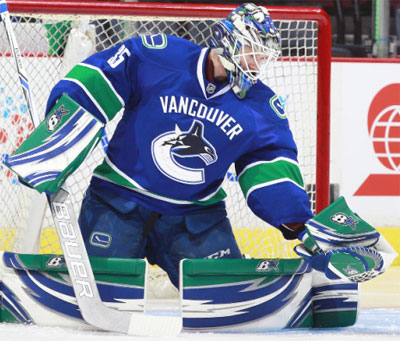 It was a wild ride with a dangerous swerve toward hitting the ditch, but goaltender and NAPHL alum Thatcher Demko couldn't stop grinning the whole game.
What looked like an easy 4-1 win for Demko in his first NHL start almost turned into disaster as the Vancouver Canucks needed overtime to beat the Columbus Blue Jackets 5-4 this past Saturday afternoon.
"I just tried to enjoy it," said Demko, a 22-year-old native of San Diego, Calif. "I had a blast. Even when they scored on three consecutive shots I was still smiling. It was a lot of fun to be part of it."
Demko was called up from the Utica Comets of the American Hockey League because backup goalie Anders Nilsson has the flu. He arrived in Vancouver late Friday night, then was in net for the game which started at 1 p.m. Vancouver time.
"My body was pretty confused," he said. "I was almost too tired to be nervous."
Demko finished the game with 26 saves. He looked tight early and on the first Columbus goal was slow getting across the crease. By the second period Demko was more relaxed and looked sharp stopping Cam Atkinson a three-on-one breakaway.
Demko also was lucky. Just 19 seconds into the game Atkinson blasted a shot that hit the crossbar. Four shots hit the post.
"I think the posts are bigger up here than they are in the AHL," he said.
Head coach Travis Green liked Demko's game.
"I thought he looked good," said Green. "I don't think he looked out of place. He's confident enough to do what he does."
On April 21, 2016, Demko signed a three-year, entry-level deal with the Canucks after three successful seasons at Boston College.
During his final season playing NCAA hockey, the 6-4, 195-pound goaltender was awarded the 2016 Mike Richter Award as the most outstanding goaltender in NCAA men's hockey. He was also a finalist for the 2016 Hobey Baker Award.
In three seasons at Boston College, Demko has posted a 62-26-10 record, along with a 2.08 goals-against average and a .928 save percentage. A native of San Diego, California, Demko was originally selected by Vancouver in the second round, 36th overall, at the 2014 NHL Entry Draft.
Demko spent time developing in the NAPHL as the goalie for the California Titans 16U team during the 2010-11 season. Sporting a 7-2-1 record with a very respectable 92.2% save percentage and a 1.90 goals against average. His save percentage and goals against average both ranked fourth in the 16U Division during the 2010-11 season.