Omaha AAA's David Wilkie named head coach of USHL's Lancers
June 1, 2017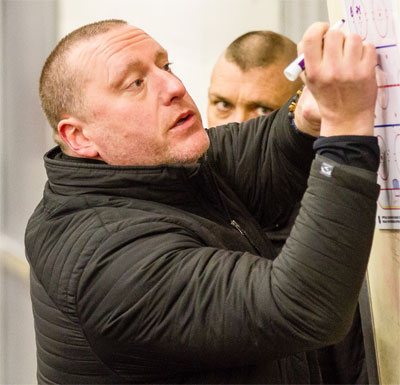 Former Omaha AAA and four-time NAPHL coach of the year David Wilkie has been named the Head Coach and General Manager of the USHL's Omaha Lancers. Wilkie becomes the 12th Head Coach in Lancers history and the first former Lancer player and Clark Cup champion (1990-1991) to take the reins behind the bench.
"I would like to thank the Omaha Lancers organization for their trust in me to lead this team into the future," said Wilkie. "I am excited about the opportunity and am very much looking forward to the challenge. This is a great hockey city with the best hockey fans. I look forward to the process, the battle, the fun, and the journey."
Wilkie, 43, was most recently the Omaha AAA Hockey Club's Director of Hockey Operations, U18 Head Coach and U16 Head Coach in the NAPHL. In seven seasons at Omaha AAA, he compiled an overall record of 570-192-32 as the program became a national powerhouse under his leadership. In the last seven seasons, 92 players have advanced to the Junior A Tier 1 or Tier 2 ranks, 44 players received NCAA Division 1 commitments, and four players were selected in the NHL Draft.
During his time coaching in the NAPHL, Wilkie won the coach of the year award four times and his team's won the NAPHL Championship four times and the regular season title five times.
Wilkie's teams won a total of 34 major championships in 12 years of coaching in Omaha including four Central District championships, ten Midwest District championships and medaled six times at the USA Hockey National tournament.
During the 2007-08 season Wilkie served as an Assistant Coach for the University of Nebraska-Omaha. The bench boss was also the second youngest Head Coach in ECHL history, when he was tabbed to lead the Augusta Lynx in November of 2002.
"We're thrilled to welcome David to the Lancers," said Lancers owner Koots DiCesare. "His success both on the ice, and advancing players to the next level, speaks for itself. He knows what it takes to win, knows how to develop players, and we feel that David is the person that will bring a Clark Cup back to Omaha."
Before stepping behind the bench Wilkie spent eight seasons playing professional hockey. A first-round pick of the Montreal Canadiens (20th Overall) in the 1992 NHL Draft, Wilkie played 167 games in the NHL with the Canadiens, Tampa Bay Lightning, and New York Rangers. During his career the defenseman was named an AHL All-Star, and two-time IHL All-Star.
Wilkie has resided in Omaha for the last 12 years. He and his wife, Carrie Anne, have seven children.