Willmar goalie Cathcart gets call to the NAHL
December 28, 2016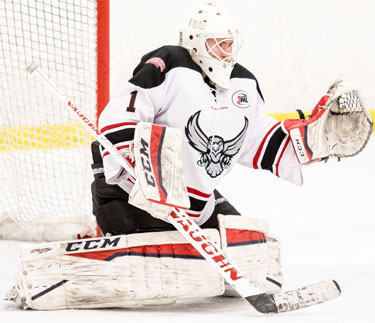 The season of giving is alive and well in the NAHL family, as the NA3HL continues to push their best players forward to NAHL teams in need. Keeping up with their holiday spirit this December are the NA3HL's Willmar WarHawks, as Head Coach Chris Blaisius has announced that goaltender Alex Cathcart has been called up to play for the NAHL's Amarillo Bulls.
Cathcart, an 18-year-old goaltender, is no stranger to the NAHL, as he found himself between the pipes for a set of games with the Bulls during the 2015-16 season. Cathcart (5'11/170) continues to climb the ranks after spending his 2014-15 season with the NAPHL's Omaha AAA 16U team.
"From the time Alex arrived in Willmar, his work ethic and dedication to improve his game has created a standard that all players should follow. We are very happy for Alex to get this opportunity in Amarillo," said Willmar's Head Coach Chris Blaisius.
Earning his first shutout of the season at the 2016 NA3HL Showcase last weekend, the Northridge, California native is well-prepared to play for the Bulls. This season, Cathcart has racked up a .913 SV% through nine contests in Willmar. Cathcart has made 284 saves in 539 minutes of play, and holds a 3.00 GAA for the WarHawks this season. He is credited with three wins thus far.
Cathcart will arrive in Amarillo on Wednesday, December 28th, and is expected to practice for the Bulls' weekend of games against Odessa. Amarillo will travel to face their North Texas rival in a South Division showdown on Thursday and Friday nights at the Ector County Coliseum.