NAPHL announces 2015 Top Prospects Tournament
October 2, 2014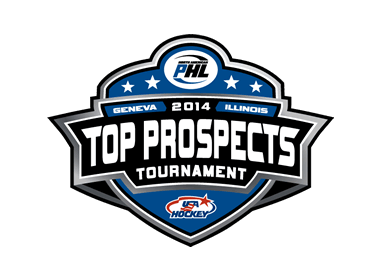 The North American Prospects Hockey League (NAPHL) has announced that the 2015 NAPHL Top Prospects Tournament, presented by Easton, will be held from February 23-24, 2015 at the Ann Arbor Ice Cube in Ann Arbor, Michigan. 80 total players from the NAPHL will be spread amongst four teams, who will play in three games each during the event. The event will feature four teams that have representation from all NAPHL organizations.
As a new element this year, the NAPHL Top Prospects Tournament will played in conjunction with both the North American Hockey League's (NAHL) Top Prospects Tournament, along with the North American 3 Hockey League's (NA3HL) Top Prospects Tournament. The event has quickly become one of the most highly-scouted events of its kind, with hundreds of junior, NCAA and NHL expected in attendance. Combined with the NAHL and NAPHL Top Prospects Tournaments this year, it will make for an exciting week of hockey and provides a great opportunity for every scout and coach to get a close look the talent in the three leagues.
Each team will consist of a 20-man roster (12 forwards, 6 defensemen and 2 goalies) as chosen by the NAPHL Top Prospects Tournament Selection Committee as nominated by the league's head coaches.
The US National Team Development Program (NTDP) will also take part in the event, with the USNTDP 18-Team playing one of the NAHL Divisional Teams on Monday, February 23rd and then the USNTDP 17-Team facing the NAHL 18U Selects Team on Tuesday, February 24th. The NAHL and the NTDP have a rich and productive 12-year history together, as the NTDP was a full-time member of the NAHL from 1997-2009.
"With the addition of both USNTDP teams, as well as, the NAPHL and NA3HL Top Prospects Tournaments, we feel we have upgraded an already outstanding event and we are expecting the 2015 Top Prospects Tournament event to be the best one to date," said NAHL and NAPHL Commissioner and President Mark Frankenfeld. "The event continues to provide the hundreds of scouts in attendance with a look at the best uncommitted players our leagues have to offer, as well as, some of our best, young stars."
2015 NAPHL Top Prospects schedule:
Monday, February 23rd: NAPHL Game 1, 8:30am – NAPHL Game 2, 10:30am - NAPHL Game 3, 6pm – NAPHL Game 4, 8pm
Tuesday, February 24th: NAPHL Game 5, 8:30am – NAPHL Game 6, 9am