Apex Learning Virtual School
Advance on the Ice with Online High School
NCAA Expertise
ALVS is a trusted online course provider of the NCAA and offers over 100 NCAA-approved courses. Many former ALVS students are now participating in Division 1, 2, and 3 collegiate athletics.
ALVS works hard to make sure your student meets NCAA eligibility requirements. In fact, Joseph O'Leary, Head of Academic Advising at ALVS, has served on the NCAA National High School Advisory Council for three years and is now an alumni member of the NCAA National High School Advisory Board.
We recommend that you sign up for a complimentary transcript evaluation with ALVS using the link below. Joseph O'Leary will personally review your transcript and provide specific recommendations as needed.
"If you are considering ALVS for your student-athlete I would 100% recommend them. The home study accommodates their crazy schedule. ALVS worked with our high school guidance counselor to make sure our son was meeting the graduation requirements locally as well as meeting the NCAA requirements."
—Christine S., ALVS parent
Flexible Scheduling
Attending a traditional high school while playing junior hockey is difficult. Like most of their peers, your student may find themselves falling farther and farther behind in school as the hockey season progresses. Missing class for practice, tournaments, or training is stressful for your student. And, it can put their college prospects at risk.
That's why ALVS offers flexible online high school courses. Your student can work anytime, anywhere, and at their own pace. There is no scheduled class time and their courses are available 24/7.
ALVS is proud to be the Official Education Partner of the NAHL, NAPHL, and NA3HL.

Academic Success
Junior hockey players who attended ALVS have been accepted by colleges such as Air Force Academy, Clarkson University, Holy Cross, Niagara University, Providence College, Norwich Academy, and West Point.
ALVS online courses are college preparatory, your student will build the academic skills they need to succeed in future studies, college, and career. In fact, ALVS students scored 15% higher on the SAT than the national average during the 2016-17 school year. Check out the ALVS School Profile for more information.
Parent & Student Support
ALVS really understands the needs of hockey families just like yours. Your student works independently, but they aren't alone. ALVS supports your student's success with:
Experienced online teachers
Encouraging guidance counselors
Knowledgeable online tutors
Weekly progress reports for parents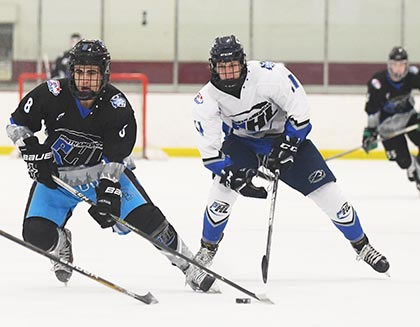 "Due to my busy sports and travel schedule, a traditional class setting doesn't work for me. Apex allows me to focus on both, my education and my athletics. I may now work around my team schedule and maintain good grades so I may get into a good college."
—Richie V., ALVS student
Contact ALVS
Not sure if online high school is right for your student? Please reach out to ALVS directly, they would love to talk to you about your student and how online school can help them advance on and off the ice.